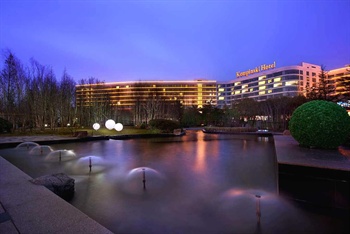 The Wyndham Grand Qingdao (Qingdao Yinshatan Wendemu Zhizun Jiudian) is a contemporary low-rise beach resort that emphasises its natural surroundings. The hotel is located 55 minutes from the airport and 30 minutes south of downtown Qingdao, overlooking the city skyline and the silver sand beach.
The hotel boasts 518 luxuriously appointed guest rooms and suites as well as five specialty restaurants and bars. With access to a private beach, an indoor pool and a spa, the hotel is a luxurious leisure destination and also the closest international luxury beach resort to Beijing and Shanghai.
Additionally, there are 12,800 square metres of meeting space and the largest pillar-less grand ballroom in mainland China, capable of seating 3,600 guests and making the Wyndham Grand Qingdao an unparalleled destination for meetings and events. Whatever the purpose of one's stay, they are sure to feel welcome at the Wyndham Grand Qingdao.
Wyndham Grand Qingdao welcomes guests to experience exotic flair. Come and enjoy Shandong hospitality in this stylish beach resort.